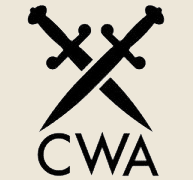 Премия вручается Ассоциацией детективных писателей Великобритании (Crime Writers Association), которая основана в 1953 году Джоном Кризи, Найджелом Морландом и другими писателями. С 1955 году Ассоциация присуждает премии за лучший роман года. Первоначально премия называлась Crossed Red Herings. Далее премия была переименована в «Золотой кинжал».
С 1995 по 2002 годы премия носила название «Macallan Gold Dagger» (в честь спонсора награды – производителя виски).
В 2006 году у премии появился новый спонсор – Банк Дункана Лаури, и награда снова была переименована - в Duncan Lawrie Dagger. Денежный приз составляет 20000 фунтов. Премии «Золотой кинжал» и «Серебряный кинжал» перестали существовать. Теперь премии вручаются отдельно:
Duncan Lawrie Dagger
- за роман, изданный на английском языке;
Duncan Lawrie International Dagger
– за роман, переведенный на английский язык.
Помимо главной награды, ассоциацией вручается ряд других премий:
«Алмазный кинжал»
Присуждается с 1986 года за достижения в детективной литературе. Спонсор награды – ювелир Картье.
Премия Джона Кризи (Новая кровь)
Вручается за лучший дебютный роман. Спонсор награды с 2003 года - BBC Audiobooks. С 1973 по 2002 годы спонсором была компания «Publisher Chivers Press». Денежный приз – 1000 фунтов.
«Стальной кинжал Яна Флеминга»
Вручается с 2002 года за лучший триллер. Спонсор - Ian Fleming (Glidrose) Publications Ltd. Денежный приз – 2000 фунтов.
«Исторический кинжал Эллис Питерс»
Вручается с 1999 года за лучший исторический роман. Награда спонсируется за счет фонда Эллис Питерс и её издателей (Headline and Little Brown). Денежный приз – 3000 фунтов.
«Кинжал в библиотеке» (Dagger in the Library)
Вручается писателю, который пользуется наибольшей популярностью в библиотеках. Спонсор – «Random House Group». Денежный приз – 1500 фунтов.
«Дебютный кинжал»
Вручается за лучший дебютный роман, написанный на английском языке, но на момент присуждения награды не опубликованный. Денежный приз – 500 фунтов.
Подробнее:
This is the CWA's annual new-writing competition, which is open to anyone in the world who writes in the English language, but whose work has not been published before. Most previous winners, as well as some nominees (such as Stephen Booth and Louise Penny) have subsequently had their manuscripts published. The entrants submit an opening chapter and synopsis: the winning entry is selected by agents and publishers, and its author now receives £500 (about $800/€570) although until 2005 the prize was £250 (about $400/€290). It began life in 1998 as The CWA New Writers Competition and is now sponsored by leading publishers Orion.
«Последний смех» (Last Laugh Daggers)
Вручается с 1988 года за лучший юмористический детективный роман.
Сайт организации:
http://www.thecwa.co.uk/daggers/index.html
Условные сокращения:
«ЗК»
- «Золотой кинжал»
«СК»
- «Серебряный кинжал»
«К»
- другие награды
Вся информация о лауреатах и номинантах этой премии собрана буквально по крупицам в разное время с разных сайтов, но все еще является неполной.
Буду благодарен за любую дополнительную информацию о премии, а также о произведениях, переведенных на русский язык.